Screens are the new toilet paper in our industry as we strive to safely return to work!  Just like toilet paper, we have so many choices and applications appropriate for today's working world.  With a variety of mounting options and materials, our manufacturers are likely to have a solution that meets your needs!
Symmetry – Sector
Symmetry offers the widest selection of brackets and materials with their Sector screens.  From clear and frosted acrylic to fabric dividers, Sector screens allow you to stay social and service-oriented while keeping a safe distance.  Screens can be panel mounted, adjustable in height, or edge mounted to protect worksurfaces from holes .. and more!  Symmetry also offers a variety of ergonomic accessories from monitor arms to keyboard trays and pencil trays that mount effortlessly to your worksurface making cleaning and sanitization of your workplace quick and easy!  Stay tuned for an exciting introduction coming soon in the category of divider screens from Symmetry!
Artopex Screens
Artopex offers a collection of freestanding, universal and worksurface mounted screens in clear or frosted acrylic. If we dive a little deeper into their product offering, we find panel mounted screens that will accomodate a 1″ thick laminate panel, mobile panels, and more.  Worried about your freestanding worksurface screen drifting away?  Velcro helps hold it securely, and temporarily in place.  Artopex strives to address 2 key points: safety + density, while remaining 6′ apart.  Learn more about Artopex's protective solutions here.
Making Privacy Simple Ecoprivacy Acoustic
MPS has a collection of acoustic dividers developed to help you get back to work and create space, without creating more opportunities for distraction.  It can be difficult to social distance in an open space and using hard surfaces to create separation can compromise accoustic comfort.  The acoustic dividers from MPS are a simple way to put a physical barrier between employees who work near each other in a desking or benching environment without sacrificing acoustic comfort.
Claridge Divider Screens
Claridge Products offers a wealth of screen options from mobile to stationary, dividing space with freestanding boards in glass, porcelain or even fabric!  Most dividers can accomodate 72″ heights coming in 30″, 36″ and 48″ widths.  Some will gang together while others will add a contemporary twist on space division.  New to Claridge is the opportunity to cut a "temperature reading" opening into your screen.  Quickly and easily assess an empolyee's temperature with as little face to fact contact as possible!
Berco Designs + Oasis Berco Desk Masks
Available in arcylic or vinyl, Desk Mask is a foldable desk screen providing a safety barrier between workstations in the open office.  Need to create individual space in your conference rooms?  Desk mask could be a great fit!  Looking to add stability?  The vinyl Desk Mask features support feet while the acrylic version easily adheres to the surface with velcro.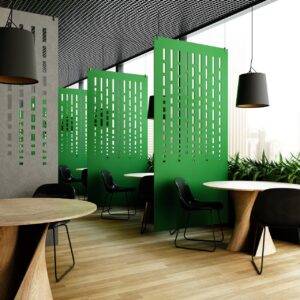 And More …
Need to get creative in how to divide your space and create separation in your office?  Our team is ready to answer your questions and make suggestions to help you return to work safely.  Many of our manufacturers have screens, partitions, and options beyond what is shown here.
We can't wait to help your team get back to work comfortably and efficiently!