Artopex has launched a curated collection of work from home solutions featuring commercial grade reliability with a softened home office appeal.  Designed in collaboration with Jean Barbeau, Director of Research and Development at Artopex, the collection, featuring Arlow, Wilow and Millie, are astheticaly pleasing and ultra functional whether you want to keep things simple, have a sit-stand solution or need room for two!  Add to your home office with storage solutions ranging from pigeon holes to pedestals – the new open pedestal or a mini box-file pedestal – to keep things organized.  Optional screen risers allow for sit/stand options on fixed desks or a simple ergonomic addition to elevate your monitor.

Arlow
This reversible desk with minimalis lines seamlessly combines ergonomics, style and practicality.  Its base with shelves allows for storage or a touch of home accents.  Desk dimensions are 24″ deep and extend in width to 48″ or 54″.  Arlow also allows for a return to either divide two desk together or maximize workspace.

Millie
This height adjustable desk with casters will allow you to vary your postion throughout the day.  Thanks to the integrated penumatic adjustment system, the surface can reach a height of 43.5″!  Sitting or standing, your workspace ergonomics will be optimized to their full potential with Millie.  Desk dimensions are 24″ wide x 36″ or 42″ in length.  Store your PC on the base for ease of mobility throughout your home.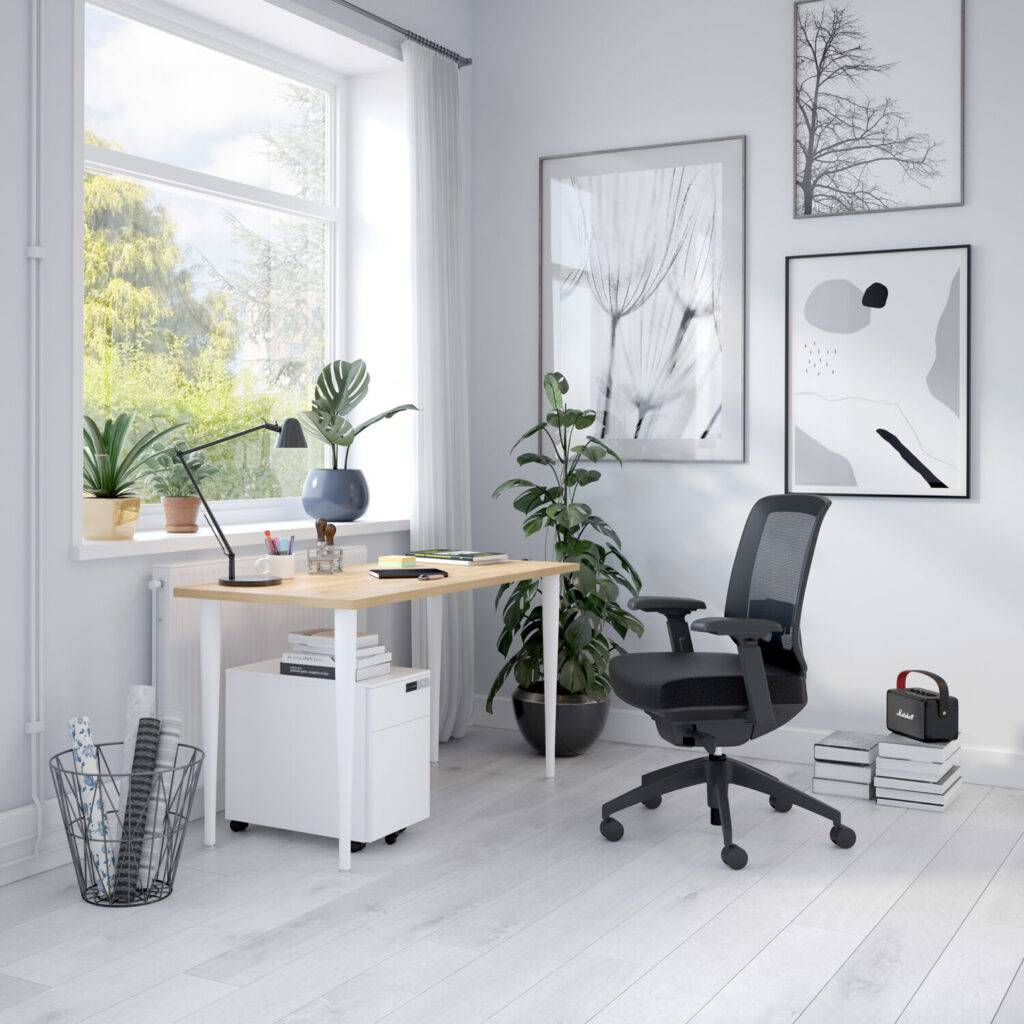 Wilow
This table with tapered metal legs will fit as well in a room dedicated to working from home as in a livingroom or bedroom.  Add a metal compact pedestal on casters with the Noki electronic lock to secure storage or combine it with a return to increase the work surface.  Desk dimensions are 24″ deep and with lengths of 48″ or 54″.  The legs feature leveling glides for stability in your home.
Please reach out to our team for more information or to schedule an overview of this collection with your team or explore the colletion on the Artopex website.  We are enthusiastic about the possibilities of this collection knowing that we are going to be facing extended opportunities to work at home or may be in need of a space for students to have a comfortable space for distance learning.  Arlow, Millie and Wilow are sure to integrate into any space to create a thoughtful, dedicated location for focused worktime for the family!